The Ultimate Guide To Kids Party Bag Fillers
Party bags are a nostalgic tradition that dates back centuries, but these days they're often filled with poor-quality plastic toys that often end up on a rubbish heap. To combat this, we have shared 5 party bag fillers that have a high play value but are low in cost! But first, find out more with our handy guide. 
Party Bag Fillers: Why? What? How? 
To party bag or not to party bag? That is the question! Children's parties can be costly, so you should never feel pressured into dishing out party bags at the end of your youngster's special event. However, if it's something you'd like to do or are considering it, here are a few insights that might help your preparation. 
Why do we give out party bags?
Traditionally, party bags are given out at the end of a party as a thank you to each guest for coming along and gifting your birthday boy or girl with a present. This kind gesture also leaves little guests with a bag full of memories to remind them of your kiddo's celebration.
What age do you do party bags for?
You can hand out party bags as early as your child's first birthday if you'd like to, as long as the toys inside are safe for babies. However, the typical age range for giving out party bags is from 3 to 12 years old. There's no strict rule about when you should stop giving out party bags, but older kids and pre-teens tend to grow out of the tradition by the time they go to secondary school.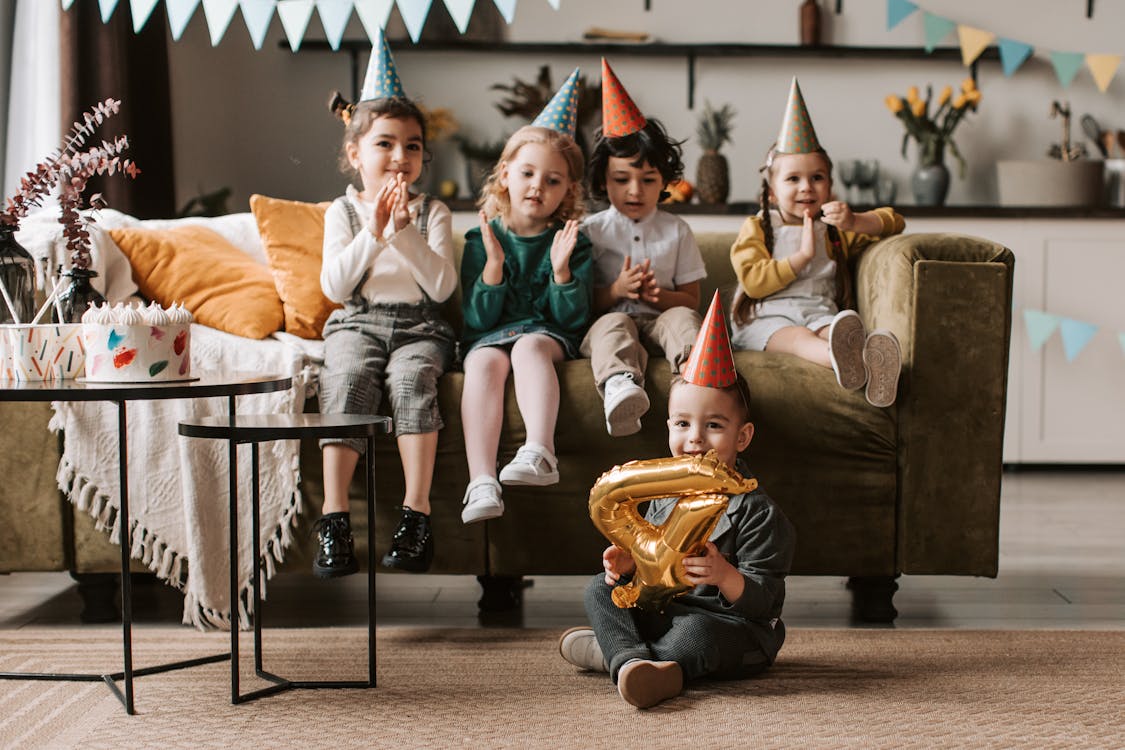 How many items do you put in a party bag?
As many or as few as you like! But on average around 2-4 items is the ideal amount (alongside a tasty slice of birthday cake, of course). To keep costs down without compromising on quality, we recommend choosing 2 age-appropriate toys and pairing these with a small packet of sweets!
What should I put in a party bag?
Here's a list of birthday party bag fillers that won't be tossed before the cake has been scoffed!
Book bundle

(divided up so each guest gets one book)

Mini notepad

(journaling is a big trend right now!)

Bee-friendly wildflower seeds

(tip: buy a large box of seeds and sprinkle a handful into some small envelopes)

Pick n mix bag

(make your own with some shop-bought sweets and paper bags

Building blocks

(buy a large tub and pop a handful in each bag)

Jigsaw puzzle
Retro games

(think tin music spinners, spinning tops & yo-yos)

Wooden toy car 
5 Alternative Party Bag Filler Ideas
If you're after better quality alternatives to cheap party bag fillers, let us inspire you with 5 of our favourite party bag toys for under £5. 
1. Eco friendly party bag fillers 
Dig in to discover our child-sized Eco Kids Spade, made sustainably with wheat fibre and available in 12 colours. Perfect for sandpit play and beach days! If you're looking for wooden party bag fillers, our miniature Noughts & Crosses Board is made from high-quality, responsibly sourced wood and is designed to withstand years of enthusiastic play. It also comes with a handy drawstring bag, so it's a great travel toy for parents on the go. 
2. Dinosaur party bag fillers
Pop a roar-some surprise in your party bags with CollectA's realistic, hand-painted dinosaur toys. Go for a herd of brachiosauruses to divide up between the bags, or choose a different dinosaur figure for each child. CollectA is the world's biggest manufacturer of toy animal figures, so you could even pick up some animal party bag fillers if you're having a wildlife-themed celebration! 
3. Fidget party bag fillers 
Trending TikTok smash hit, NeeDoh, has become a playroom favourite in family homes across the globe. Made from a non-toxic, dough-like material, this spectacularly satisfying fidget toy can be squished, pulled, smushed and squeezed and will always bounce back to its original shape. For under £5, you can choose from the best-selling NeeDoh Dohjees, Glow In The Dark NeeDoh, Swirl NeeDoh, Crystal NeeDoh, Colour-Changing NeeDoh, Snow Ball Crunch NeeDoh, Teenie NeeDoh (3-pack), Funky Pup NeeDoh and more! 
4. Sensory party bag fillers 
Sensory toys are some of the best party bag fillers, as they are a fun way to engage and captivate a group of excitable youngsters. Our wand-shaped Magic Tubes are filled with dazzling sparkles and come in 5 assorted colours, or we have a Retro Tin Kazoo which comes in a vintage-style box ideal for gifting! 
5. Craft party bag fillers 
Splitting out a pack of creative markers is a handy hack for making quality party bags fillers more affordable. Australian brand Tiger Tribe has an amazing collection of stationary sets for kids, like its clever double-ended Magic Highlighters or classic 12-pack of Junior Markers, made for mini artists.
Share Your Party Bag Snaps
Got a few ideas for some unusual party bag fillers? We'd love to take a peek! Share your party bag snaps with us over on Instagram @bigjigstoys.