4 Retro Lava Lamp Styles You'll Lava Lot
Bursting onto the scene in the swinging sixties, the iconic Lava lamp became a staple of hippie culture. In the nineties, Lava lamps shot to superstardom once again when kids all over the world fell for their groovy glow. Today, TikTok is bringing the trend to the youngsters of Gen Z and Gen A, and we're here for it!
Explore All Things Lava Lamps
Get to know what Lava lamps are all about with our short Q&A, then read on to discover four of our favourite retro styles to deck out your kiddo's bedroom.
What's the point of a Lava lamp?
For older kids and teenagers, Lava lamps provide a calming and peaceful mood in a room. Unlike traditional lamps, Lava lamps don't give out much light, so they are perfect for creating a mellow atmosphere and can help to soothe children with sensory issues. Plus, they look great as a decorative piece in bedrooms!
What's inside a Lava lamp?
The mesmerising globs you see in Lava lamps are made from a coloured wax which warms into a flowing semi-liquid. The magic of how the wax dances around the lamp is all about density! When switched off and cool, the wax becomes denser than the liquid so it drops to the bottom of the lamp. Switch the lamp on and the heat will make the wax lighter and less dense than the liquid, causing it to rise to the top in funky globs. The trademark LAVA-shaped globe also helps distribute different amounts of heat between the bottom and top which impacts the wax flowing up and down.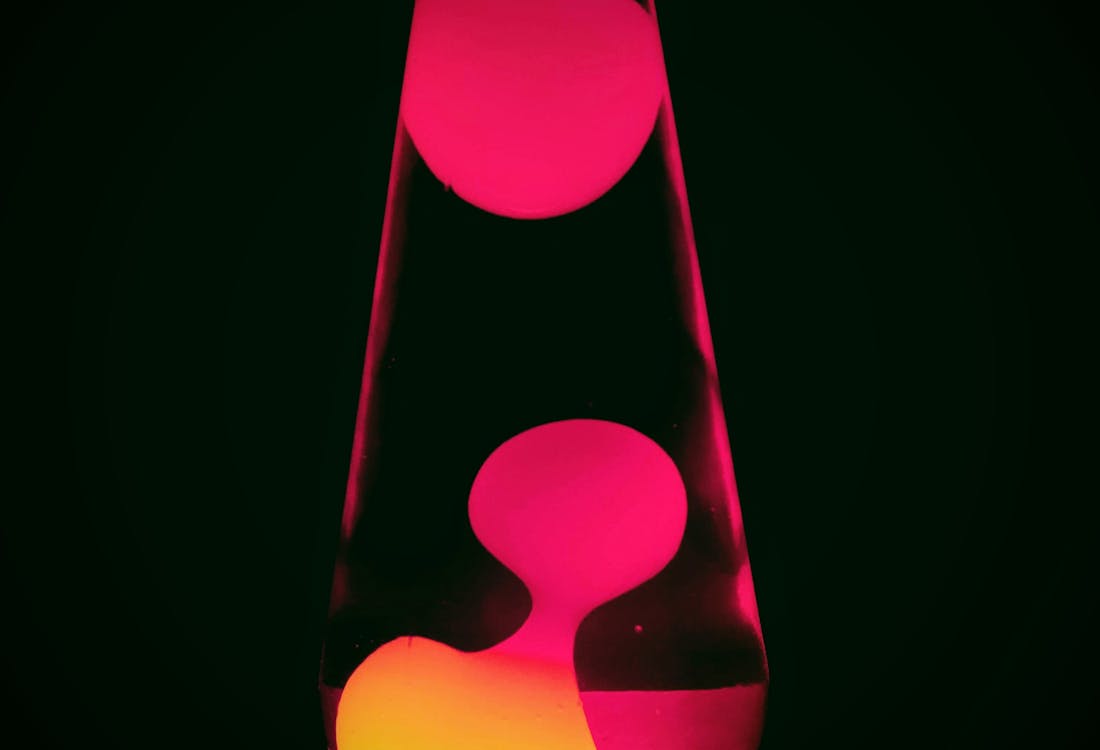 Do Lava lamps relax you?
Absolutely! Research has revealed that 93% of people believe their Lava lamps help them to feel less stressed. Watching the slow-moving globs bob up and down the glass can be a relaxing mindfulness activity that helps to soothe busy minds and encourage us to unplug from the stresses of daily life, even if it's just for a few moments. 
Are Lava lamps coming back?
Kids have enjoyed these lamps through every generation since they were invented, however, nineties trends are back in a big way and Lava lamps are a sought-after staple of that decade. Now the shape-shifting effects can now be seen all over TikTok, adding a touch of style to the bedrooms of tweens and teens!
Top 4 Retro Lava Lamps For Kids
Earlier this month, we introduced LAVA to the Bigjigs Toys collection. Part of the retro toys brand Schylling, LAVA has a bunch of super cool Lava lamps to suit every room, mood, and personality. Here are four of our favourites! 
1. Original Vintage Lava Lamp
The Classic Lava Lamp features the famous globe design, with a silver aluminium cap and hand-spun base. Inside the lamp, white wax floats among an eye-catching neon blue liquid, creating a chilled-out vibe in children's bedrooms. 25 watt light bulb included. 14.5" tall. 
2. Rainbow Lava Lamp
Brighten up your kid's bedroom with this kaleidoscopic Rainbow Lava Lamp. The lively lamp shows off a multicoloured wax effect which bubbles away inside a rainbow-patterned hand-spun metal base and cap. 25 watt light bulb included. 14.5" tall. 
3. Red & Black Lava Lamp
The striking design of this large Lava lamp will add a pop of colour to any room. The Red & Black Lava Lamp features a sleek black hand-spun metal base and cap, creating a dazzling contrast to the bright red wax inside. 25 watt light bulb included. 14.5" tall. 
4. Northern Lights Lava Lamp
If you're on the hunt for more unusual Lava lamps, we think you'll like this one. Inspired by the enchanting waves of the aurora borealis, the Northern Lights Lava Lamp is quite the spectacle! The stunning purple and blue swirling effect is created by a glittery liquid in a tri-coloured glass globe, and the hand-spun metal base follows the same flowing patterns as the real Northern Lights. 25 watt light bulb included. 14.5" tall. 
Replacement Lava Lamp Bulbs
We also stock
25 watt replacement packs
, so shop now to keep your kiddie's bedroom aglow with a shiny new
Lava lamp bulb
!