How to tempt butterflies to your garden
With their colourful wings and random flightiness it's easy to see why butterflies are so popular with children. Many species have declined over the past ten years due to loss of habitat. But the good news is that even the littlest gardeners can play an active role in their conservation. Keeping plants well-watered is the key to ensuring they produce plenty of nectar, and dead-heading (removing dead flowers) will prolong the flowering season. So set the kids up with
mini-watering cans
and child-friendly scissors at the ready
Teeny, tiny gardens
Potted plants on sunny windowsills and doorsteps can create a flowery tapas bar for butterflies and other nectar-loving insects. Lavender is a good choice, flowering early and lasting until the first frosts. It's also very forgiving if you forget to water it for a few days. Alyssum, lobelia and heliotrope (cherry pie plant) are all happy enough in pots and provide cheap-and-cheerful butterfly fodder all summer long. Keep the pots close together so they can flit between them easily.
Medium gardens
Buddleia... or 'butterfly bush'...is the first plant most people associate with our fluttery friends. It fills the air with a honeyed scent, and it's a sure-fire way to tempt lots of butterflies.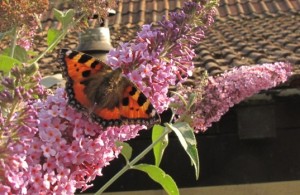 Some gardeners dislike this shrub because of its untidiness, rapid growth and ability to self-seed in the most inconvenient places. But Don't let that put you off give it a hefty prune early spring and remove the seed heads after flowering to avoid unleashing a plague of buddleia on the neighbourhood's gardens. Butterfly Conservation has a list of
100 nectar-rich plants
, many of which can easily be grown from seed by children. Candytuft, verbena bonariensis, cornflower and coneflower are all wonderful, and the
family section of the RHS website
has easy-to-follow growing instructions for them.
Large gardens
If you have a big garden, turning a section of it over to meadow will cater for caterpillars and butterflies throughout their lifecycle. Lots of caterpillars eat grasses and nettles, so letting a hidden corner run wild will be really beneficial.
Big Butterfly Count
If you're looking for a quick and easy garden activity for the kids over the holidays, why not take part in Butterfly Conservation's Big Butterfly Count? Spend 15 minutes in one spot, count how many butterflies you see and submit your sightings online. It's running until 10 August - you can find out more and download a butterfly ID chart
here
.
You can find out more about Mary and her garden at
www.brookendcottagegarden.com
. Subscribe to our blog to keep up to date with Mary's advice/tips and know how.