Rubbabu - Put to the Test
You may have seen my previous blog post reviewing the Green Toys Sand Play Set, this week I had the opportunity to review two toys from the new Rubbabu range. With Rubbabu having just launched this week, I thought what better way to test how much Rubbabu's toys are loved by children than to test them out at home with my own two little ones; Matilda aged two and a half and Jacob aged 10 months. We tested out the Rubbabu
Building Blox
and the Rubbabu
Charles The Micro Airplane
. First impressions - the Rubbabu Building Blox were nicely presented in well designed packaging which is 100% recyclable. There is a window cut out at the front of the box so you can see and most importantly, feel the product inside. I feel that this is important as so often the image of the product on the packaging can misrepresent what's inside. Charles the Micro Airplane came packaging free with a little tag around his wheels. Matilda absolutely loved playing with the Building Blox, the interconnecting cylindrical pieces are a nice added extra to conventional building block toys. They added an extra element of fun and even more building possibilities. She really enjoyed putting the interconnecting parts into the different coloured blocks. The blocks have a lovely velvet feel to them and as you can see from the photo below come in bright colours!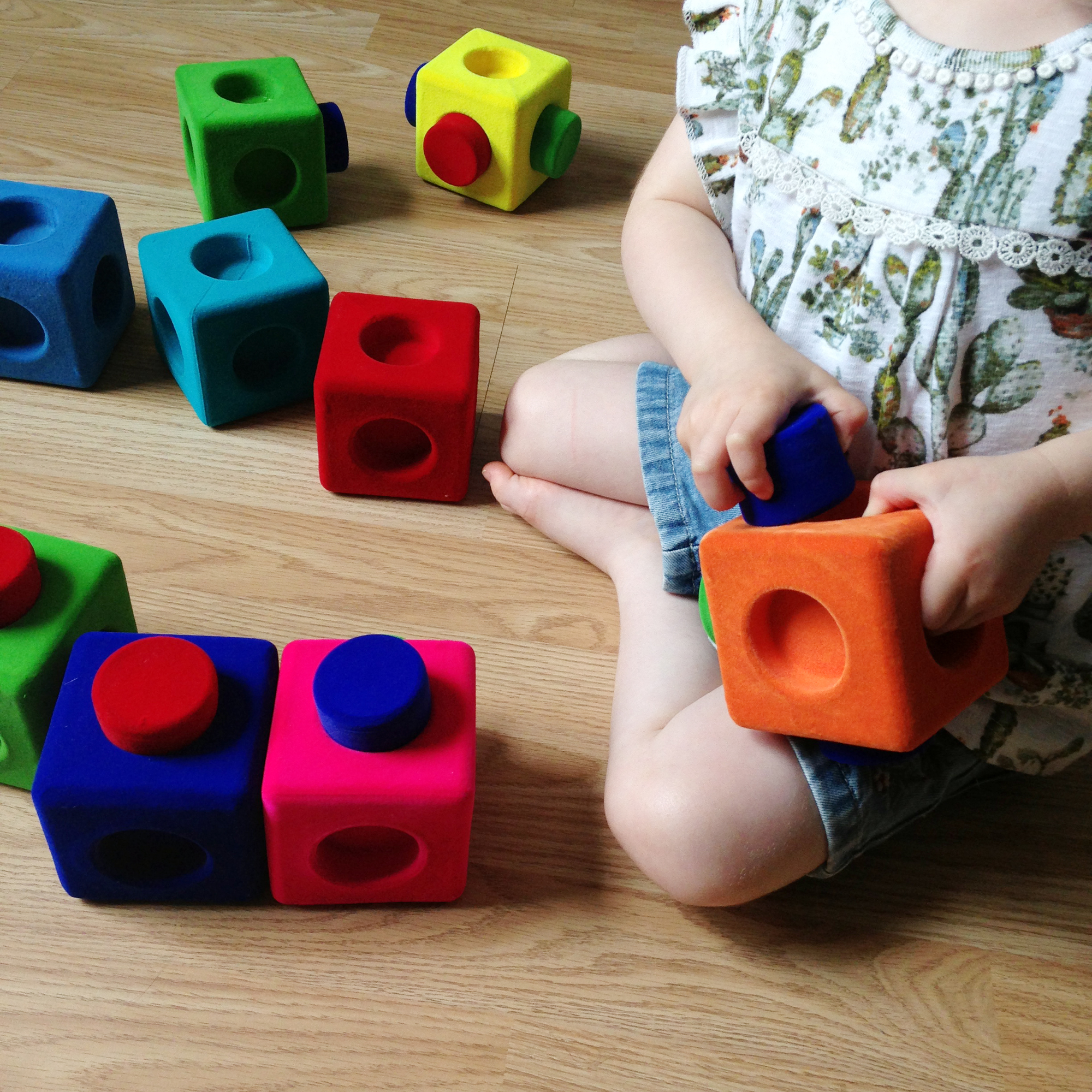 One of things I like best about these blocks is that I can feel at ease knowing if Matilda builds a tower and Jacob topples it over, he won't get hurt because the blocks are so wonderfully soft. They both loved playing with the blocks - Jacob had a great time rolling the cylindrical pieces across the floor and crawling speedily after them.
Charles the Micro Airplane comes in dark green and is easy for little hands to grasp due to it's small size. It would make a great gift and would be ideal as a toy to travel with. It's soft, tactile and bendable. Jacob liked the feel of it and enjoyed pushing it around on the floor.
I always try and make sure I buy ethical and environmentally friendly products. Rubbabu toys are made with biodegradable and renewable materials, so for me, they tick all of the boxes. I'll be adding some Rubbabu to Jacob and Matilda's Christmas list. Thank you for reading. Emma.