How To Create A Kids Baking Kit
On your marks... get set... bake! Grab your spoons and get ready to bake up a storm with the apple of your 'pie'! We've got everything you need to create the ultimate baking kit for kids. But first, explore how baking can nourish your child's development and at what age they can get cracking.
Baking With Kids
Why is it important to bake with kids? 
Baking is a very simple way to spend some time together and connect as a family. It's a fantastic bonding activity, fairly low-cost, doesn't require a lot of preparation, and it's a great way to help children pick up new skills. Not to mention, kids love it! 
What are the benefits of baking with children?
'Muffin' compares to baking as a fun way to learn! Baking nurtures a child's sensory development by exposing them to new and diverse textures (think soft flour vs runny eggs); it introduces them to numbers and maths concepts; gives them lessons in science (such rising and fermentation); it improves their reading skills when following a recipe; it teaches them life skills; and it boosts their confidence, creativity, vocabulary and dexterity. All the whisking, beating, kneading and stirring is also great for children's physical development and inspires youngsters to enjoy active play.
What age can kids help bake?
Toddlers can start helping you out with baking from as young as two years old. As long as they are supervised by an adult, tots at this age will love joining in with some easy tasks. The key is to keep their responsibilities super simple! Things like mixing the batter and cake decorating are safe for young ones to get involved in. As they grow, you can begin to teach them about kitchen safety, and by the age of 10 they may be able to cook more independently and become your family's star baker!
How To Make A Kids Baking Set
Before you rustle up a batch of cookies or a tray of chocolate brownies, it's a good idea to set your littlen up with some child-friendly tools that are easy for small hands to manage. These kids baking kits are perfect for a family baking day. 
Dress The Part
Aspiring chefs can look the real deal in our Spotted Kids Chef Set. This kids baking apron and matching hat will keep clothes (and hair!) clean of any mess, and the oven glove keeps tiny hands protected. As an added bonus, our kids chef outfit also comes with four pastry cutters and a wooden rolling pin.
Step Up
Give your youngster a little lift and help them reach the kitchen worktop with our wooden Kids Stool. There is no danger of this childrens step stool toppling over as it is made from sturdy and durable wood. It also features carry handles for easy transportation around the kitchen. 
Kit Out The Kitchen
A baker is only as good as their tools! Our 23-piece Childrens Baking Set includes a six-bun baking tray, a stainless steel loaf tin and ramekin, a whisk, wooden rolling pin, six pastry cutters, an oven mitt, muffin cases and a set of measuring spoons. These baking utensils have been designed for little hands to safely use.
If you prefer a wooden baking set for kids, our Pastry Set comes with a wooden pastry board, spatula, spoon and rolling pin. This baking kit also comes with six colourful pastry cutter shapes, perfect for biscuit making!
Pick A Recipe
Get some baking inspiration with our My First Recipe Book. This kids baking book features step-by-step instructions on a handful of easy baking recipes for kids, from muffins to pancakes. And there's no need to worry about the book getting ruined in the kitchen, as it's made from wood so all it needs is a quick wipe after use. 
Psst… want a shortcut?
If you don't fancy making the real thing, aspiring bakers can whip out this Muffin Tray play food set instead! Each of the six muffins are individually decorated and come in a sturdy wooden muffin tray. No mess or stress necessary!
Team Bigjigs Baking Memories
We took a trip down memory lane to recall some of our most memorable bakes. Enjoy!
"When I was little my Nan used to make cakes for the local farm shop. When she babysat me, she used to let me decorate the cakes however I wanted. We would then drive to the farm shop every Sunday and drop off all the cakes so they could sell them for the week. My favourite to make with her was always coffee and walnut! Yum!" - Georgia  
"I was making homemade ice cream with my Nan and I was getting in the way, so she gave me a bag of ice. She said that to make ice cream, I need to shake the ice for 10 minutes and sent me outside to run around the garden shaking the bag of ice. When I came back in, the ice cream was magically done." - Shannon.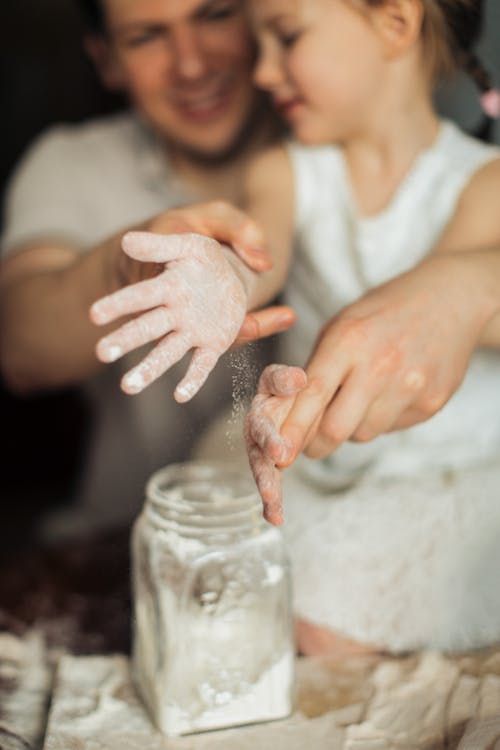 "As a kid, my dad taught my brother and I how to make his legendary lime cheesecake. We used to love getting stuck in, smashing a plastic bag full of digestives on the kitchen counter to make the cheesecake base. I realised years later that most people use a blender… (our way was much more fun!)." - Maisie 
Share Your Family Bakes
Been busy baking? Share your creations with us over at @BigjigsToys!